Compare Wall Street English with Other Online English Courses
Are you looking to find the best way to learn English online? There are a lot of different ways of learning English and it's often difficult to find out which is the best way for you and is actually going to deliver the results that you want.
Read on to find out more about how you can learn English online with this article that compares Wall Street English with other online English language courses.
How Wall Street English is different from other online language courses
So, you've decided that you want to learn English, which is a great start! Maybe you want to improve your career or you need English for studying at college or university? Maybe you are more interested in self-improvement or broadening your network of friends? Either way, there are many different ways that you can learn English. Have you tried any of these before?
Ways of Learning English
You could learn English by moving to an English-speaking country. This method of immersing yourself in the language is often very effective because you live your life in English, however it is also very difficult and expensive. In the difficult times brought on by the coronavirus epidemic and associated travel restrictions this may not really be an option for you.
Another option could be to try and teach yourself English with some of the numerous online guides and tips that you'll find by searching websites or YouTube. However, this is also often difficult as it's hard to maintain your motivation and you don't have much support from experts. This way of learning is often unstructured and you don't know what you need to do to improve.
Maybe you've decided that the best way will be to join an English course with help from an English teacher. If that is the case, then it's a great choice because it is one of the best options available. Although in many places traditional English language schools are closed because of Covid-19 there are still some excellent options to improve your level with a course including signing up for an online English course.
How to Compare Online English Courses
Choosing the best English language course isn't easy. Everyone seems to offer online live classes with certified teachers that are available 24/7. So how do you make a decision? To help we have outlined the main differences and similarities between Wall Street English and other online English courses.
Course aligned to the CEFR
The CEFR is the Common European Framework of Reference for Languages, an international standard for describing language ability. It's important to make sure that your English course has levels from beginners to advanced linked directly to the global standard.Wall Street English: Yes
Other Online Courses: Yes
Native-level English teachers
As we said before, it's important to get support and feedback from English teachers to help you with your English learning experience. It's not enough for them to just be native English speakers. It is also very important that these teachers are certified in English teaching. The need to be able to teach you the skills that you need to learn a language online or in an in-persona class.Wall Street English: Yes
Other Online Courses: Yes
A Personal Coach
It's very useful to have some extra support for keeping you on track with your English learning. A personal coach is similar to a Personal Trainer in the gym where they can help you follow a plan to get the results that you want. A personal coach is normally someone that has learnt English themselves and so they know exactly what to do to keep you motivated towards achieving your goals.Wall Street English: Yes
Other Online Courses: No
Small classes and extra practice
When you are learning English, you want to make sure that you get lots of time with the highly-qualified teachers when you are in your class whether it's online or in-person. It's useful to have a small class with just a few other students rather than lots of others that means you can't get as much personalized support and feedback from the teacher. It's also important to have opportunities to get extra practice in using the English language, whether it's in online activities that you can do as homework or in extra sessions where you can connect and have fun with other learners in English.Wall Street English: Yes
Other Online Courses: No
Learn where & when you want
Another important requirement in an online English course is for it to be flexible enough to fit around your schedule. Particularly when there are restrictions on travel or movement in your local area then it can be really useful to have a course that gives you the option to learn where and when you want. Of course, this also includes being able to use any device to study and do your classes whether it's your mobile phone or a computer.Wall Street English: Yes
Other Online Courses: Yes
Schools near you
Although you are thinking about joining an online course at the moment, it's also useful to choose an English course provider that does have other options if you need them or you want to change how you learn in future. At Wall Street English we've got over 420 schools in 29 countries around the world that have taught over 3 million students English, so we've developed a proven method that works in-person and now completely online. If schools are closed at the moment then you may want to look at a provider that will reopen them when it's safe to do so.Wall Street English: Yes
Other Online Courses: No
Guaranteed Results
One of the most important aspects of choosing an English course has to be whether it actually works and gets you the results you want. It's important to make sure that the teaching method is good value and the best value course is one that makes sure you learn English. At Wall Street English, we have a proven learning method. If you don't achieve your agreed goal at the end of your course, get your money back. We guarantee it!Wall Street English: Yes
Other Online Courses: No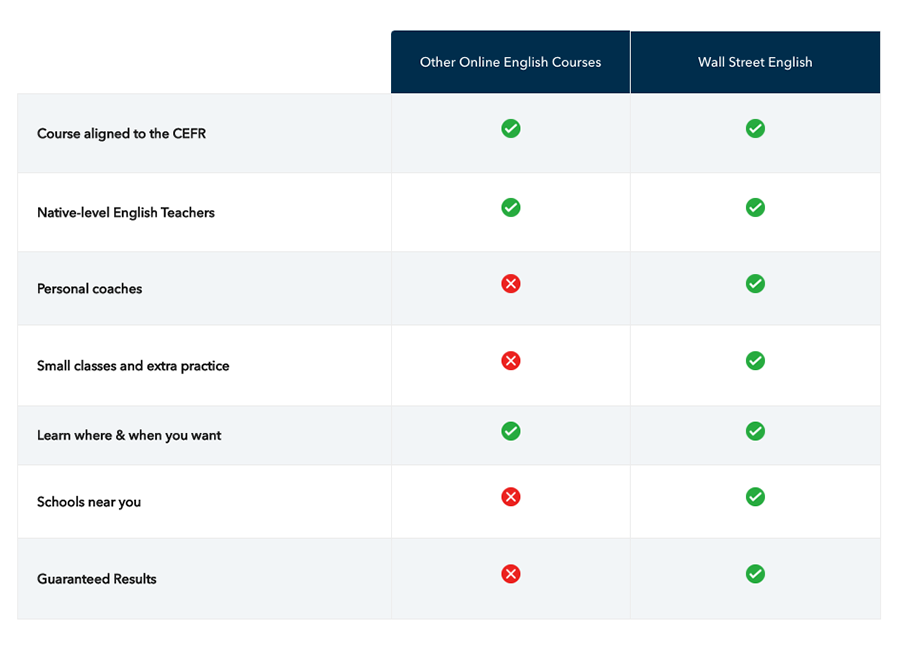 How we guarantee you will learn English online
You can be confident that with the Wall Street English method you will learn. From day one of your course you will be guided to learn English using our learning technology and supported by our certified teachers and personal coaches.
If you follow our method, you will learn English. We guarantee it.
Our method is based on four simple elements:
Watch and learn
Learn English by watching an award-winning TV series that introduces you to the right language at the right time
Practice, pronounce and speak
Read, write, listen and speak in interactive online activities with immediate pronunciation feedback.
Feedback from your teacher
Join live virtual classes with certified teachers and a maximum of 3 other students at the same level.
Practice the language you've learned and get feedback on how to improve.
Motivation from your coach
Plan your goals with your personal coach in 'one-to-one' virtual support sessions
Make sure you stay on track and stay motivated to achieve real results.
Choose the right plan for you
We have a range of online course plans to match your needs. You can be confident that whenever you choose to study you will start speaking English right from the start.
All course plans include: Full access to our proven learning method; sessions with highly-qualified teachers and supportive coaches; and practice lessons, extra grammar classes and social activities.
You can choose to learn online, in-center or a mixture of the two (where schools are currently open). Find out more about our Course Prices now!