Dreams Come True for Students at Wall Street English
English learners at Wall Street English centers in South Korea, Hong Kong and China were given a treat recently when one of the stars of the WSE edutainment TV series visited to give some motivational acting workshops. Read on to find out more.
Thousands of English learners were inspired recently at Wall Street English centers in Asia through a series of motivational speeches and interactive workshops from Nicole Maxali, the American actor who played a lead role in the 80 episode TV series that makes up the WSE course.
Nicole shared her advice for staying motivated and achieving your goals at over 20 exciting events in 11 WSE schools across 3 countries during March 2018. Nicole was amazed with the reception from her fans in WSE South Korea, Hong Kong and China. Nicole said "Still spinning and recuperating from my 3 week Asia tour! Where I got to visit three countries, five cities and meet over a thousand of my Asian fans. And my live stream videos have been viewed by over 100,000 fans in China. It was a whirlwind of a trip…"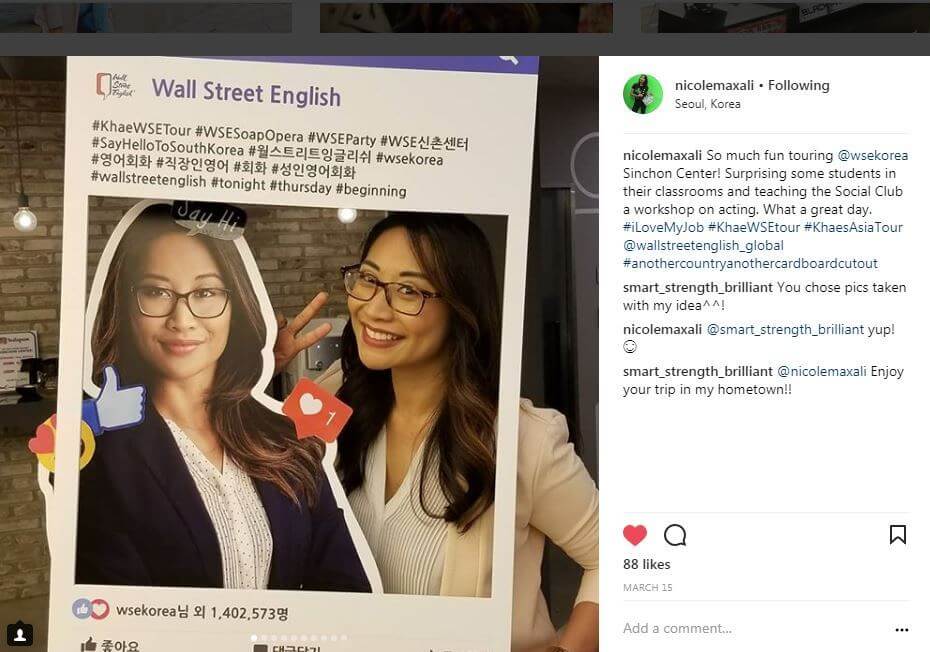 An example of one of those fans is WSE student Samuel Yan who said "Nicole's share really inspires us. Take time to listen to your deep voice. Follow your heart to go for your dreams, no matter if there are doubts, fears ,challenges ,obstacles."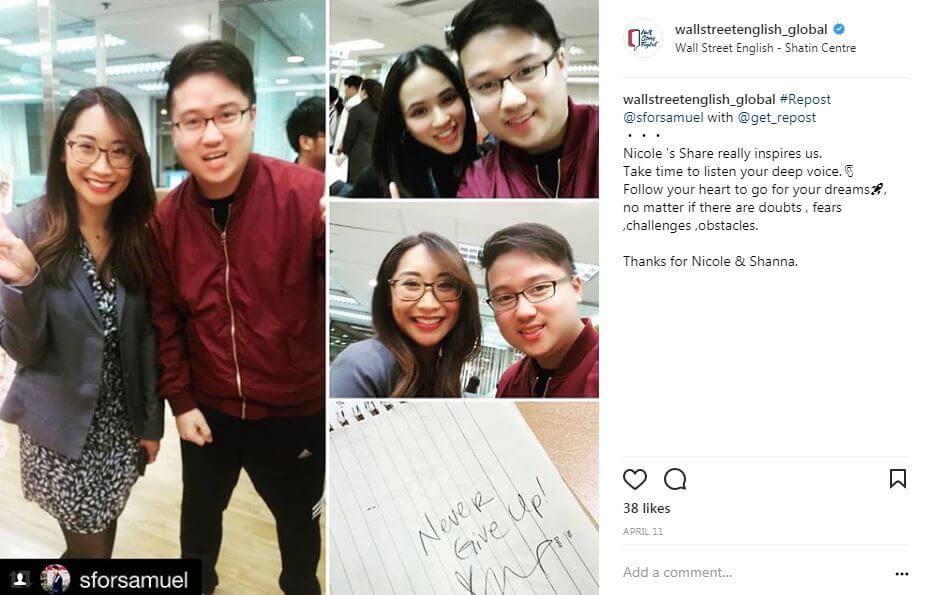 Nicole's character Khae is one of the main characters in the TV series that helps WSE students to learn English over the course of 20 levels from beginners to advanced. Students follow her journey of discovery as she pursues her dreams in New York.
The events in the WSE centers included Nicole giving a motivational speech about how she has overcome difficult situations in her life to keep pushing forward. This can be related to learning English and the support learners get from the team in a Wall Street English center. Nicole also ran an acting class sharing some top tips from her experience as an actor and producer in New York.
Nicole even went out to visit some of the sights in the cities she visited including Busan, Seoul, The Hong Kong Flower Show and The Peak, The Bund in Shanghai, The Forbidden City and even the Great Wall of China!
https://dy7oszgl9a56g.cloudfront.net/wp-content/uploads/2018/04/23105102/70246khaeinchina_H264_3614kbps_AAC_und_ch2_96kbps.mp4
We'll leave the last word to Nicole (or Khae)!
"Thanks to everyone that made this Asia tour possible… I'm blessed to have such a successful career thus far and even more grateful I get to travel the world as my job. This all wouldn't be possible without @wallstreetenglish_global @wsehk @wsekorea and of course WSE China (wse.com.cn)"
Check out some more of Nicole's trip and the fun events in WSE centers on on this Facebook post and the Instagram hashtag: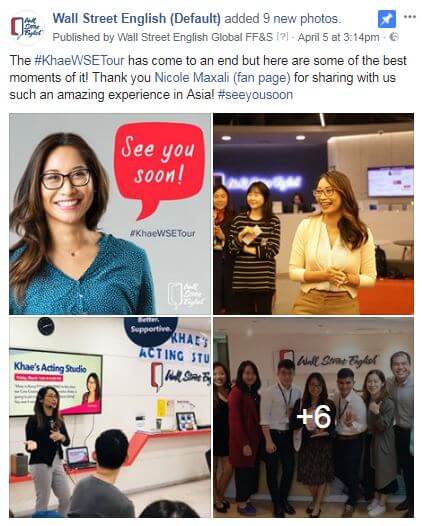 https://www.instagram.com/explore/tags/khaewsetour/
About Nicole Maxali (Khae)
Nicole Maxali is a former News Producer/Communications Director/Event Manager turned Creative Writer/Actor/Motivational Speaker. Nicole's one-woman show has toured all over the United States with rave reviews and standing ovations. She is currently acting in New York City in various commercials and pitching her very own comedic TV pilot to American cable networks. nicolemaxali.com
Follow Nicole on Instagram:
www.instagram.com/nicolemaxali/
About Wall Street English
Wall Street English (WSE) is one of the largest providers of English language education for adults around the world. In 2018 WSE operated over 400 centers in 28 territories around the world. www.wallstreetenglish.com.
See more about Our Courses and Start Learning now!