Pronunciation Powered by Launch of Automatic Speech Assessment Technology
State of the art technology will be used to support student learning as part of the core course
Wall Street English, one of the world's leading adult English language training providers, has today announced the integration of best-in-class automatic speech assessment (ASA) technology into its unique blended learning model.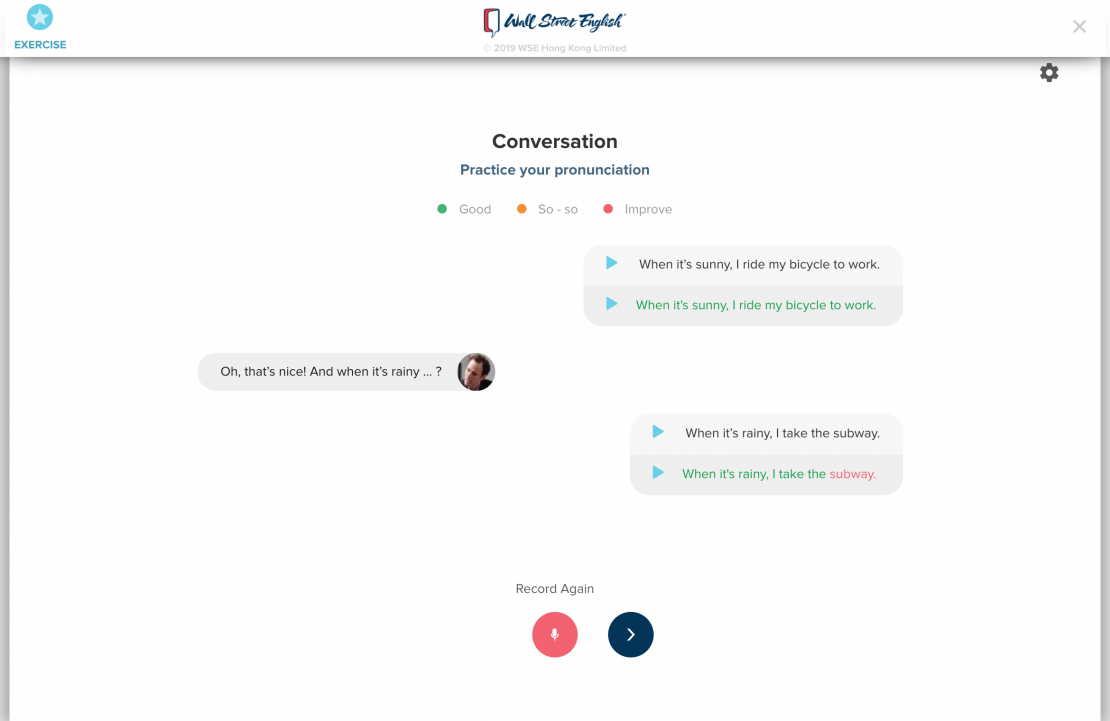 Wall Street English has leveraged the latest speech assessment technology, developed and patented by Speechace for education and language learning, to give students personalized, targeted and actionable pronunciation feedback in real-time as they learn new words and expressions. Unlike standalone pronunciation apps that present learners with words and phrases that are difficult to understand out of context, Wall Street English students practice new language as it is introduced to them in their core English course, helping them understand the phrases they are practising, and focussing first on speech to help students pronounce new language correctly as soon as they learn it.
Pronunciation is difficult for many learners, with students often struggling with sounds not used in their native language. For example, English and Spanish share the same five vowels (a, e, i, o, u), but while in Spanish these are each pronounced in only one way, in English these same five vowels result in 12 different sounds. ASA technology enables students to overcome this challenge, focussing their attention on the words that contain the sounds they most need to improve.
The Wall Street English model focuses on intelligibility, encouraging students to aim for being understood by another English-speaker, rather than sounding exactly like a native speaker. This avoids the frustrating task of learners trying to exactly match their pronunciation to that of a native speaker every time. The Speechace ASA technology analyses learners' speech and provides a quality score which allows for immediate feedback on the intelligibility of their pronunciation, helping students to identify which specific words and sounds are most personally challenging. Students are then able to practice and improve their pronunciation of the words identified.
Speechace technology allows for the feedback thresholds to be carefully customised to reflect the learning objectives of each activity, ensuring that the pronunciation feedback students receive is motivational, timely, relevant, and level appropriate. The speech assessment technology has also been used to power feedback for a brand new activity type, where students are prompted by flashcards to remember and voice-record recently learned vocabulary items, further boosting learning.
https://dy7oszgl9a56g.cloudfront.net/wp-content/uploads/2019/07/09115105/ASA-Core-Course-Flashcards_1.mp4
Following positive feedback from a pilot held in February this year, the ASA technology is currently being rolled out to all Wall Street English students studying their core English course. 95% of participants in the pilot said they preferred the activities that used ASA technology to provide personalised feedback on their pronunciation, and 87% of students reported feeling relaxed, confident and motivated when completing the activities. Importantly, introducing the ASA-powered activities into the course did not increase the time required to study.
Ken Davis, Head of Product at Wall Street English, says: "Pronunciation can be one of the most challenging aspects of learning English, as many students find the different sounds in the English language hard to hear and replicate in their own speech.
"We're always looking for ways to help our students when they need it, so we're particularly pleased that the ASA pilot had such positive results and we can now roll it out to our whole student base."
Wall Street English is committed to helping students learn through innovation and has invested in technology to revitalise the learning experience for students around the world. Its blended learning model allows students to study online at any time and at the correct level for them with teacher-led, face-to-face classes. This, combined with a superior student support system, provides a meaningful, effective and efficient learning experience and guarantees progress and success.
Davis continued: "We're committed to innovating the learning experience for the benefit of our students, and we're always open to the positive impact technology can have. The new ASA technology will help our learners with one of the areas we know they find hardest, and where they value detailed feedback, helping them to progress in their studies as quickly as possible."
Find out more about the Wall Street English course on the Our English Courses page.