Choose your country or region
Spain

Spain
Current student? Login to access your course
Student Login
Skip to content
What is the Wall Street English Blended Learning Method?
Our blended learning method includes the best parts of many different learning styles. You can study English by following the natural way of learning a language. We teach English using 'natural language acquisition' – the same way you learned your first language. We focus on listening and speaking first and reading and writing come later. We offer many opportunities to practice English in real life contexts which help you to achieve a deeper understanding of the language and teaches you how to use it in everyday situations.
How does our method work?
You will learn through bite-sized Interactive Lessons from an entertaining sitcom-style series that you can access anywhere. You will have access to Digital Workbooks that are fun to complete and give you instant feedback on your progress. Practice will include a fun and relaxed environment in the small teacher-led classes. Complementary Classes help you to improve your vocabulary, speaking skills and our centers offer you an immersive experience with Social Clubs to join. Access your personalized dashboard to complete exercises, track progress, and join the global online community anytime. Our method is completely customizable so you can access your personalized study program where you want, when you can.
A unique Study Cycle that follows the natural way of learning English
Study Cycle
At Wall Street English you can follow our unique study cycle to start practising English straight away. You first watch our engaging soap opera style videos, where you focus on listening and understanding, then move to practising speaking and pronunciation skills. This is then reinforced by completing reading and writing exercises in our Digital Student Workbooks. Next you have a small class with a Native level English teacher to demonstrate how much you have learnt. We also have extra complementary classes to improve your language skills and fun Social Clubs to meet with new people and gain more confidence in your speaking abilities.
Your studies are personalized
The most important thing about Wall Street English is that your experience is completely personalized. You can study online anytime, anywhere. You can study in our centers or at home. You can even book classes online to fit in with your schedule. You can also start your course when you want. When you take your level test we make sure your course will start at the best level for you, choosing from over 20 different levels and throughout your learning experience you will be able to track your progress easily.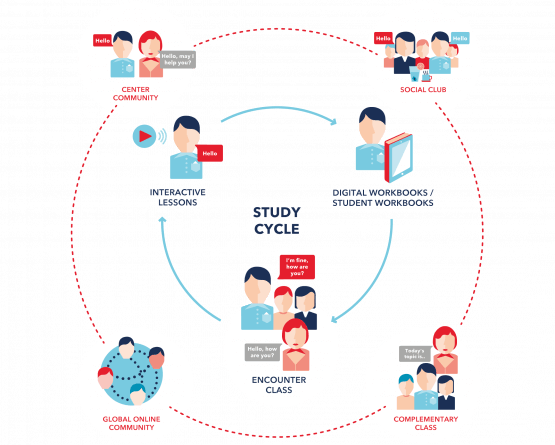 Do you want to find out more about what learning English is like at Wall Street English?
Our teachers
We hire the best Native level English teachers who love to help you learn! Our teachers are certified through industry accepted accreditation programs and know the best techniques to help you learn English. They get to know you individually and are able to track your progress with state-of-the-art analytics. They see the areas you need support and give you activities to improve.

Effective
They are highly qualified, well-trained, and experienced. As Native level English teachers they know how to use and teach English for everyday use.

Inspirational
They are dynamic and enthusiastic. They will inspire you to keep learning to achieve your goals.

Fun
They make learning fun! They are committed to offering you well-prepared and creative lessons for an entertaining learning experience.

Supportive
Our teachers are dedicated professionals. They get to know you personally. They offer advice and support, and are your partners on your journey to learning English.
Want to start learning today?
Our course offers the ideal opportunity for you to learn English in a supportive environment. Make the most of our curriculum based, fun and entertaining studies.
Read our latest blog posts
15/06/2021 By Bindi Clements
Find out more about Wall Street English's presentation on the effectiveness of automatic speech recognition (ASR) for providi...
Read more