English course for your career
Our English course is focused on improving listening and speaking skills. It's ideal for professional business people that want a career working in English.
What you get
Small classes online or in-person with a maximum of three other adult English learners for more personal support from your teacher.
Your personal coach sets your study plan based on your English career goals to keep you on track and motivated.
A proven learning method specifically for professional adult learners. If you don't achieve your agreed goal at the end of your course, get your money back.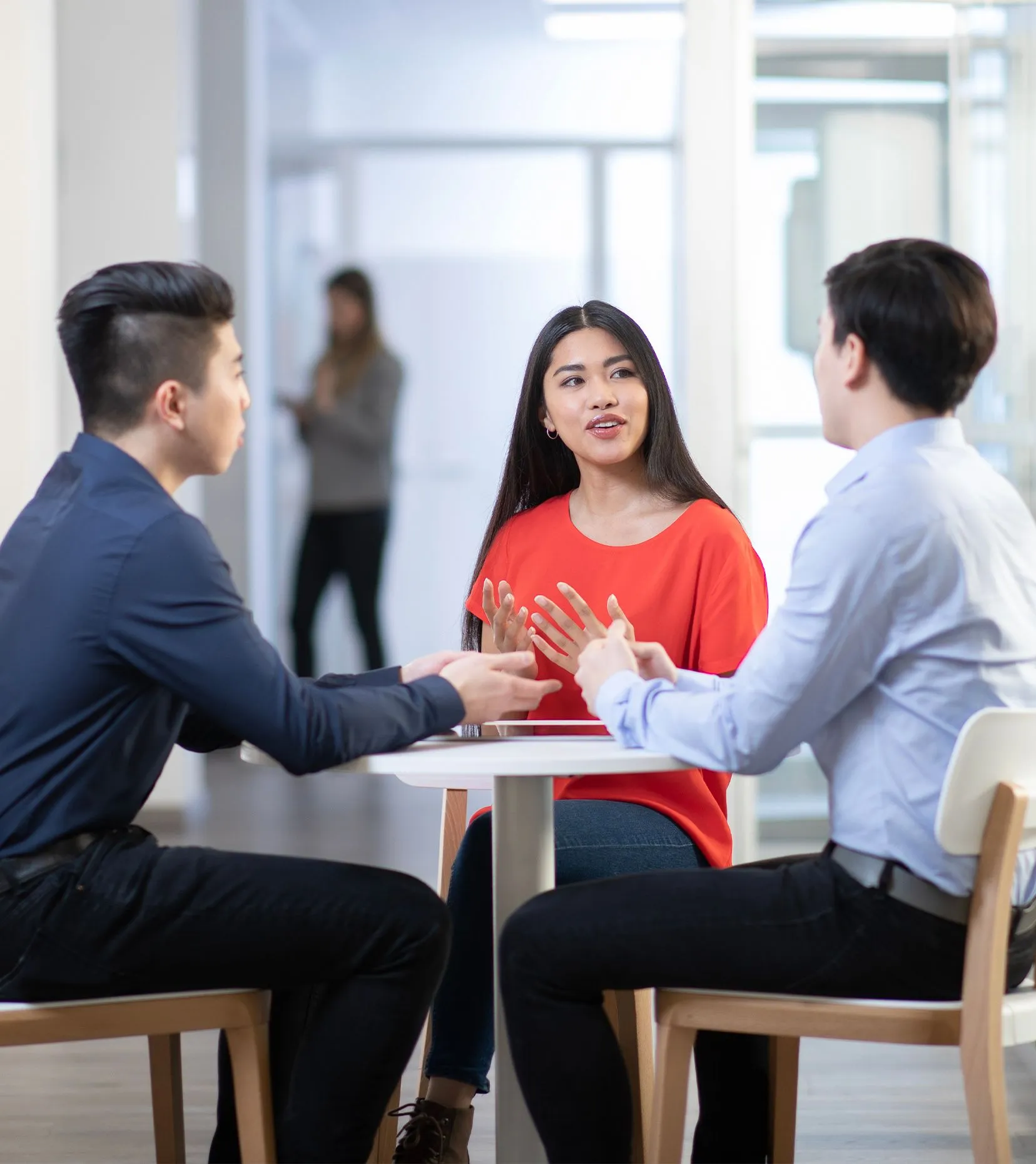 Experts in business English for adults since 1972
At Wall Street English, we've developed a proven method that is specifically adapted for helping learners improve their English for their career.
Our English course combines self-study with small classes with a teacher to guarantee results. You'll make progress and achieve your career goals with our English course.
How you learn business English
Make the most of your time watching online videos focused on a group of people building their careers in New York City.
Study the language you've seen with Interactive Lessons to improve your listening and speaking skills. Join in and record role-play conversations and complete your student workbook for reading and writing with instant feedback.
Practice pronunciation and improve your English communication with interactive exercises. Our interactive English exercises with automatic speech recognition provide instant feedback.
Start having English conversations right from day one, whether in our schools or online. Speak practical business English with our teachers in professional conversation classes and related activities.
Highly-qualified teachers make sure you learn English quickly. Get the feedback you need to speak English with confidence when giving presentations or working in English.
Attend small classes with a maximum of three other career-focused learners at exactly the same level. Our English tutors will validate and confirm what you've learned. We'll make sure you improve your business English skills.
Your English learning cycle
Our method is based on a proven learning cycle that makes learning easy and effective no matter how busy you are at work. Our study plan can adapt to your needs.
Week one
Watch engaging videos and complete related learning activities
Improve your reading and writing skills for emails or letters in English with your workbook
Join a conversation class with a teacher to practice using real English for example in meetings.
Week two
Continue studying the interactive lessons with support from your coach if you need
Speak English in real-life professional situations in a themed activity
Have your small class with a teacher to confirm your progress.
Repeat
Move on to the next part of the course, as you know that you've learned the corporate English language you need.
Get extra classes to study more if needed and join other relevant activities to improve even more.
Revise the work that you've done in your workbooks for more practice on business skills.
An English course aligned to global standards
Wall Street English offers 20 English levels for students ranging from beginners to advanced. Our course is aligned with the Common European Framework of Reference for Languages (CEFR) which is often used by employers as a measure of English ability. The main CEFR levels are A1, A2, B1, B2, C1 and C2. Each level measures your English listening, speaking, reading and writing skills which you'll need to be able to build your career in English.
Wall Street English Levels 3-5
At this level you might only be able to work in jobs with basic English requirements such as manual work in factories or warehouses or cleaning but you can have a simple conversation with people if they speak slowly and simply.
Test your English level online
Take a free online English test or book a call with us for a complete English assessment.
The perfect course plan for your career
We have a series of course plans to choose from. Our method and course covers everything you need to learn English for your career. You can be confident that we'll make sure that you make progress and achieve your career goals.
Course prices and plans
Wall Street English course plans can adapt to your schedule and needs. We offer the best value plans that deliver results.
How we calculate your course price
We assess your:
exact English starting level;
your individual goals; and
your desired level.
We'll create a personalized course plan to make sure you achieve your goals.
Contact us today to discuss how we can help you with your English.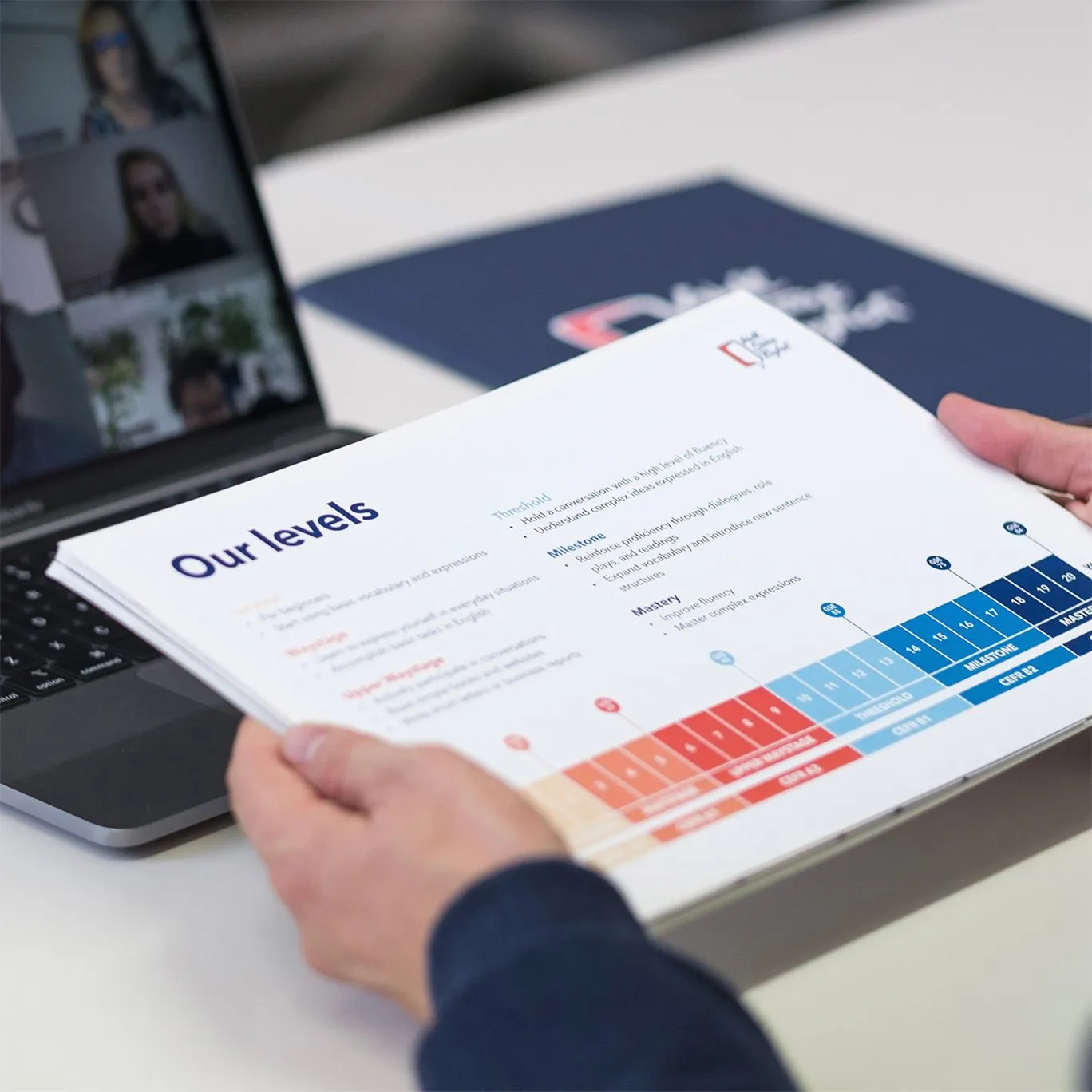 We've helped over 3 million students achieve their goals with English
Start improving your career now
Contact us and speak to our professional course consultants about how you can improve your business English.