Wall Street English at it's Best!
Recently some of our international territories China and Portugal, have shown the very best of Wall Street English by collaborating with local communities, helping the most vulnerable and showing there is hope. Not only are these stories uplifting, they challenge us all to really demonstrate the true values of our Company.
WSE Portugal
Back in 2017 the staff of WSE Portugal Head Office and the corporate centers headed for Santa Comba Dão, one of the villages that was left devastated during the terrible fires that swept across north central Portugal a few months ago. The local authorities hadn't been able to reach all the locations due to the enormous scale of the fires.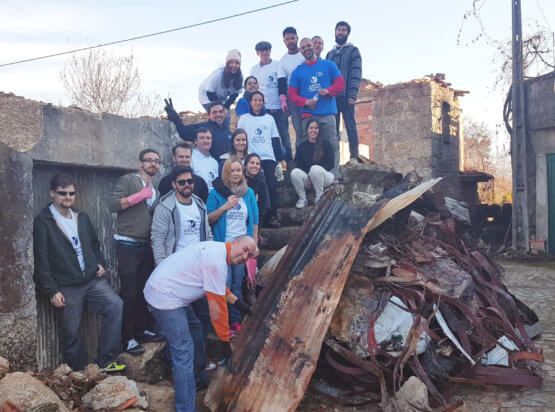 The objective was simple: to work with the authorities on cleaning up hamlets and villages in the area. so this and to bring a message of hope to the survivors (mainly senior citizens) that they were not forgotten.
The staff quickly organized themselves into teams and soon got down to work. The staff:
Removed rubble from homes affected by fires
Sorted donated clothing
Cleaned and organized dog kennels (many dogs survived their owners)
Removed debris from the streets
At 8pm, exhausted, but showered and dressed up WSE Portugal celebrated its end of year party at a nearby hotel location. Big party! A lot of sore heads and sore muscles at 9 am breakfast before the bus left for Lisbon and Porto!
Darren Swan, General Manager of WSE Portugal said of the team: "Our people were awesome, dedicated, industrious, creative and full of joy. We are very proud of what we can achieve together at WSE Portugal!"
WSE China: Giving Tree
Over the course of the last 12 years, WSE China staff and students have helped the lives of thousands of children by sponsoring the Giving Tree Charity Program as a donor. WSE China has successfully raised funds that helped deliver personalized gift bags to children from a migrant school. Additional support went directly to Home Sweet Home, a non-profit organization that helps those physically challenged to develop and unlock their full potential through learning and employment.
A group of 40 Wall Street English colleagues and students went to Suzhou Linyan Primary School and presented the gift bags to students one by one after the Giving Tree Donation Ceremony. At the event, Galen Hodgson, East Regional Service Director, also the organizer of the event this year, gave a speech and engaged with the excited children. Two student representatives performed a poetry recital to express their gratitude and appreciation to Wall Street English. Everyone that joined the event was deeply moved by children's happy smiling faces.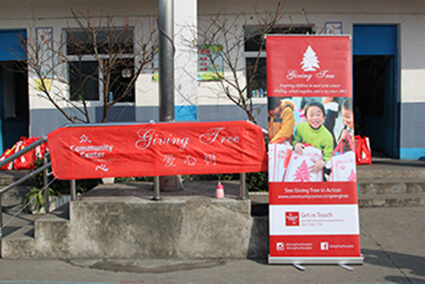 We'd like to express our thanks to every employee and student who contributed to this project and in particular to Galen, who said: "We hope to deliver 'The Power to Change Futures' to every child through this event, encourage them to have dreams, and follow their dreams."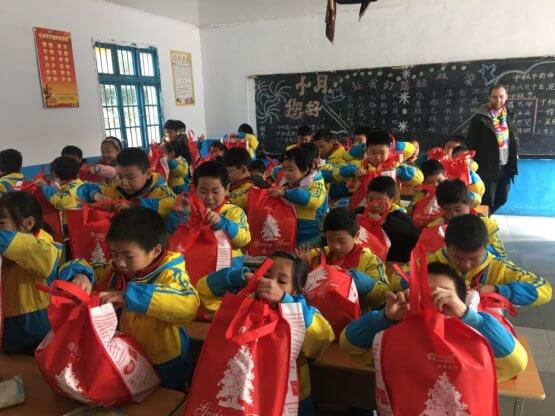 Say Yes to learning English now, and follow your dreams! Try our English Test, to find out your level of English.