Choose your country or region
Spain

Spain
Current student? Login to access your course
Student Login
Skip to content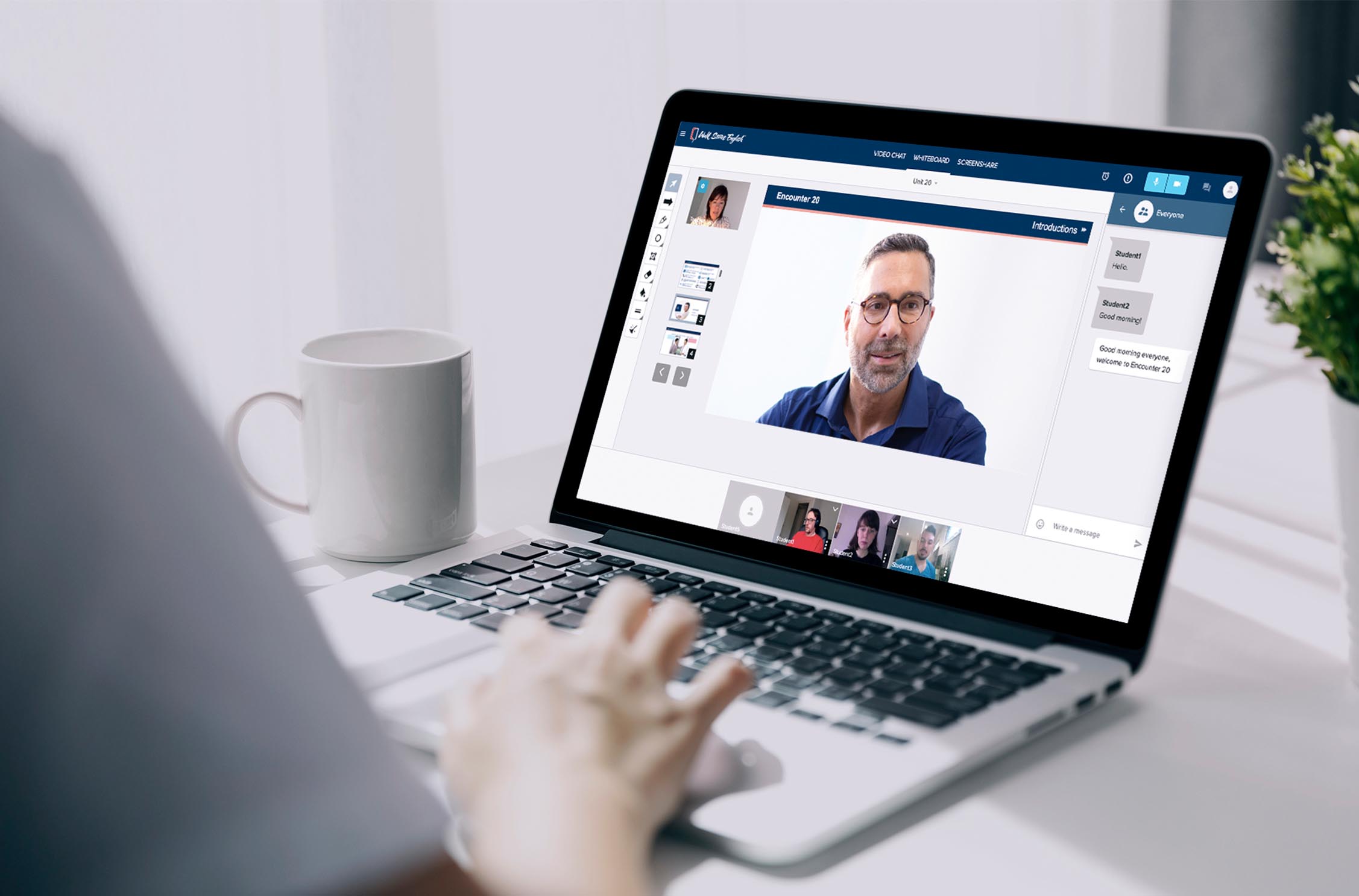 Feedback from Your Teacher in Our Digital Classroom
Make the most of your time and learn English from the comfort of your own home with our Digital Classroom.
Have you tried to learn English online but not made any progress? Maybe you've watched some videos online or tried an app for learning English vocabulary? 
At Wall Street English we think that it's important to learn on your own but also have time with a highly-qualified teacher to give you the feedback and guidance you need to really learn English.
Using our custom-made digital classroom software, you are able to bring your English class into the middle of your living room but still keep the premium learning experience that you would have enjoyed in one of our physical schools.
Easier English Learning 
The Wall Street English Digital Classroom makes English learning easier. With one click from your student dashboard you can join the group video class. It's also easy to use when you are in the virtual classroom. There's nothing to be confused about so you can focus on speaking English.  
The digital classroom is a premium feature of our fully integrated English learning experience. Everything about the tool is focused on enabling confident communication whether it's the built-in classroom materials, the breakout rooms for role plays or the chat messenger for further engagement.  
This experience is very different to other learning providers where you just have to connect via a different tool and don't have access to any professional materials. There's no need to remember different logins and passwords to access the classes, as it's all part of the same advanced learning system. 
Make the Most of Your Time 
It's not just about the technology as at Wall Street English every class is tailored to practice what you've been learning in the self-study unit that you've been learning. All the materials that you'll see in the digital class are specifically designed for your English level. You are even able to book a class whenever you are ready to make sure that you make the most of your time. The three other students in your group class will be at exactly the same level as you.  
Feedback from Our Highly-Qualified Teachers 
All our English classes are designed so our highly qualified teachers can concentrate on what they do best – teaching, and giving feedback and assessment, making sure you've grasped the language from the unit, and are ready to move on.
The Most Effective English Learning Experience
At Wall Street English we're committed to ensuring that our students can continue to learn English in the most effective manner wherever they are. All of our course is now available online and we've made sure that our learners are still progressing and learning. 
Online learning has been proven to work but only if it's designed right. At Wall Street English we've taken all the experience that we've developed over almost 50 years of teaching English with the latest technology and in-person classes and we've adapted it completely to be available 100% online. Read more about Language Learning in the Digital Classroom. 
Our learners think that online learning is effective, because our course has been specifically designed to work in the most effective way. Do you want to try it out?
Make the most of your time and start learning English with our Digital Classroom as part of our fully-integrated learning experience.  
Complete our short survey to find your perfect English course: